Cheese and Spirits Pairing
---
Are you a Turophile and Spirits Lover?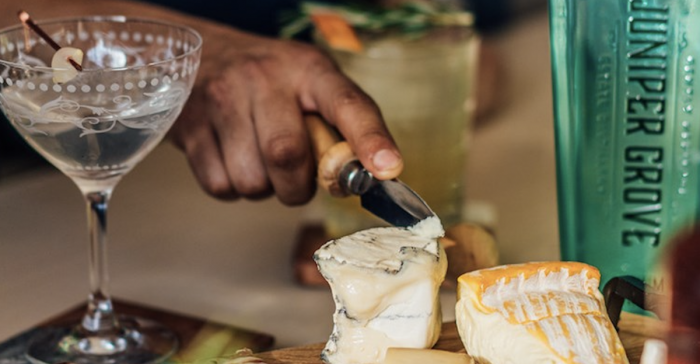 Here at Bently Heritage's public house, we love cheese. Some would say, we love cheese too much, but I tell those people my cholesterol is totally fine and definitely not high. There are many classic beverage pairings that are known to go with cheese, but let's talk about the unconventional. That's right! I'm talking about the final frontier, spirits, and cheese!
When you pair food with alcohol the first thing to think about is matching body or weight. This means pairing something heavy such as a full-bodied Cabernet Sauvignon with something equally as heavy like a prime rib roast. With distilled spirits, the alcohol by volume percentage goes way up from 14% (wine) to a 40+% spirit. Such high alcohol content puts even the richest foods on the table as options for pairing. The great thing is, you can always lower alcohol content by working the spirit into a cocktail or adding ice. The next part of the pairing to look at is acidity, sweetness, bitterness, and salinity. For example, a classic spirits pairing is chilled vodka and caviar. The richness, weight, and saltiness of the caviar work with the pure nature of the vodka and weight of the alcohol. A bitter gin may benefit from a food pairing that has acidity and salt to balance the bitterness. Mature bourbon can exude aromas of vanilla, oak, and butterscotch; it's a natural pairing for aged gouda. The final aspect of a successful pairing is flavor bridging. This is where flavors resonate in both the spirit and the food. For example, you may have a gin that tastes strongly of juniper. You can bridge that flavor by pairing with a juniper flavor in your food. (Think pork rillette with juniper berries in it). Without further ado, let's jump into some Bently Heritage spirit and cheese pairings!
The first spirit pairing starts with Bently Heritage's Source One Vodka. A perfect example of ultra-premium vodka, Source One is distilled from oats and Winter wheat grown on Bently Heritage's estate in the Carson Valley that's nestled in the Sierra Nevada mountains. We're going to pair this with a Brie De Melun from Saint Faron creamery in Melun, France. Combine this rich, salty, and slightly acidic triple cream brie with Bently Heritage's Source One Vodka, and magic happens. The salt and richness of the brie dance in harmony with the oily luxurious mouthfeel of the vodka. Delicate notes of fresh-cut hay and flowers resonate with the bloomed rine of the cheese. Truly a simple yet elegant pairing to be shared.
The next pairing uses Bently Heritage's unique Source One Vodka Rested in Sherry Oak Casks. The vodka is once again distilled from Winter wheat and oats but this time is rested in Oloroso Sherry wine casks for around a month; resulting in one of the most remarkably unique spirits on the market. With the refined smoothness of vodka, and the oak, nuttiness, and toffee notes from Sherry, this spirit has an absolutely massive range of cheeses to work with. It meets its match in Cypress Grove's mouth-watering Lambchopper cheese. A gouda style mature cheese made from sheep's milk in Holland and aged for 3-6 months, this cheese naturally bridges with the nutty and toffee notes from the vodka. Bliss.
Now we set the stage with Bently Heritage's Juniper Grove American Dry Gin. A classic rift on the London dry style, this truly handcrafted gin expresses notes of lime, lemon, bitter roots, and juniper. Bently Heritage's team zests organic lemons and limes by hand each batch to make this ultra-premium gin one of the best. For this pairing, we are going to flavor bridge using juniper berries and a classic gin pairing in blue cheese. Enter Deer Creek's The Blue Jay, a quintuple cream blue cheese made with cow's milk that has juniper berries mixed through it. Take it to the next level by shaking up a dry Juniper Grove American Dry gin martini and garnishing the cocktail with an olive stuffed with Blue Jay cheese.
Finally, we'll pair a cheese with one of the most exciting gins in existence, Bently Heritage's Juniper Grove Atrium Gin. This floral and citrus-forward gin was inspired by Bently Heritage's distillery team foraging in the Carson Valley for local botanicals. The result is a stunning gin balanced with ten different botanicals including grapefruit, chamomile, and gentian. We'll pair this with cheese from the famed Cowgirl Creamery in California, a creamery that's been producing world-class quality cheese since 1997. To match the balanced, complex botanical structure of Juniper Grove Atrium Gin, we'll bridge flavors found in Cowgirl Creamery's Pierce PT. Inspired by botanicals found in Tomales Bay, Pierce PT is a bloomed rind cow's cheese that is dusted with field flowers, chamomile, calendula, and Thai basil. These botanicals pair very well with the bold floral and citrus flavors of Juniper Grove Atrium Gin, and to take it a step further, add a splash of tonic to set the whole thing off.
The best part about spirit and cheese pairings is the infinite number of possibilities. A small tweak of the spirit by adding ice or mixers, and even changing the creamery to a different one just up the road will completely change the interaction between the two. Even better, you get to eat and drink all of the mistakes along the way! In parting, I'll leave you with a quote, "Life is great, cheese makes it better." - Avery Aames